In addition to the telephone as the first channel of contact with customers, email, web chat, instant messaging, virtual agents, among other contact alternatives, have allowed users to choose the most appropriate channel according to their preferences and needs.
This choice of channels available in the market is twofold, as indicated in the study "The Digital Evolution Journey of the Contact Centre" published by Bearing Point, which indicates that customers choose according to their preferences, while companies arrange their channels taking into account the type of requirement and their sector in the market.
In this scenario, Wolkvox offers different channel alternatives in its solution, allows the design of IVR's and virtual agents with ASR and artificial intelligence functionalities; creates its own chatbots with the possibility of overflowing to agents; and even designs its own interaction routing engines such as Email, Facebook, Twitter and Instagram.
Customer Cube Interaction
For the correct choice of channels in "The US Contact Center Decision Maker's Guide 2019-20" published by ContactBabel, a structure is developed that allows the categorization of interactions considering high and low levels in relation to the urgency, complexity and emotional importance of the client with the objective of suggesting the main and secondary channels.
Thus, if for a customer his or her urgency, complexity and emotional importance is low, self-service is recommended as the main option. An example of this situation is casual product research; while if it is high for all three variables, the telephone is the most recommended, for example, to ask for advice in a domestic emergency.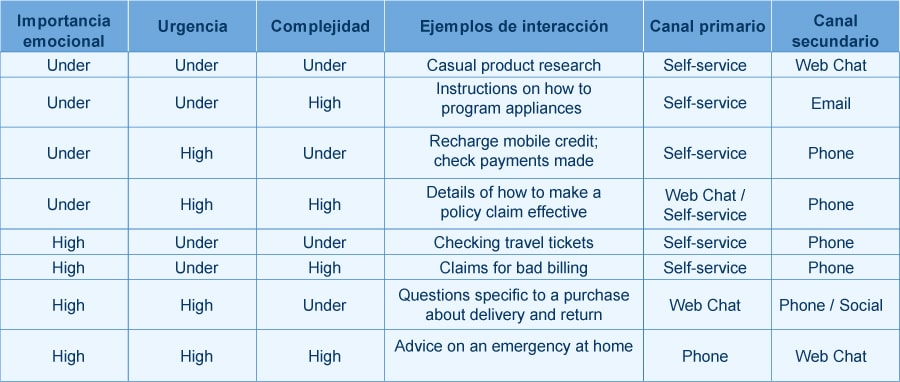 From The US Contact Center Decision Maker's Guide 2019-20 published by ContactBabel
In the market, analyzing the use of each channel is very useful for companies because it allows them to know the volume of use of each interaction and the demographic preferences of the customers to improve the customer experience (CX) and reduce service costs.
These detailed reports can be generated in the wolkvox Manager by setting a date and choosing between chat reports, conversations, closed interactions per channel, interaction details, among others.